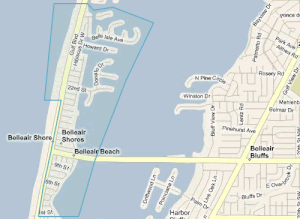 Waterfront real estate along the Florida Gulf coast can vary greatly and using the services of an experienced, knowledgeable real estate agent is invaluable. property options include properties located on the beach, Intracoastal, salt water canals, fresh water canals, lakes, rivers, with access to the Gulf of Mexico.
The waterfront property available for sale on the area Multiple Listing Service can offer DIRECT or INDIRECT access to the Gulf, with NO bridges or several bridges to consider when planning a waterfront purchase of home or condominium. Depending on your lifestyle, needs and style of your vessel you will need to do some homework to be sure that a property meets your boating needs.
Width of canals, location of neighboring docks on the waterway, seawall construction, shoreline makeup (soil, rip-rap, cement, etc) are important factors to consider for boating navigation and re-sale too.
When we assist our buyers we use aerial overview photos from the county and online satellite imagery services like Google Earth use the 3-D option to explore an area and waterways, and use Birdseye on Bing Maps
Local nautical maps are an excellent resource as well (available at local marine supply stores and online) so that you can research water depths and get a feel for the areas waterway navigation to open waters and the Gulf of Mexico.
there are plenty of NON waterfront properties available for sale as well and of course we can arrange showings on any of interest! You preview the properties for sale on MLS from our website search and we do the rest, providing research, tax, mortgage history, FEMA maps, county information and set up ALL showings through listing agents.
We act as YOUR Buyer Agent and negotiate on YOUR behalf NOT the seller as do listing agents, their job is to get the highest and best price closest to the MLS list price after all!
Belleair Beach Florida real estate for sale on the Gulf of Mexico-beachfront, Intracoastal Waterway, Bayfront, Salt Water Canal many with Gulf access and boat dock available! Single family homes, condo and new construction see all property on our website!
Newest Property Listings are presented first or do an Advanced Property Search by price, location, community type, amenities, water type etc. You can also search by MAP, Zip Code, MLS Number, Address, and Condominium Name- we try to make it as easy and efficient as possible for users!