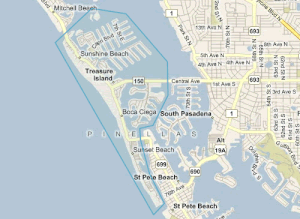 Treasure Island, Florida got its name from a hotel owner who buried and then "discovered" wooden chests on the beach. The owner claimed that the chests were filled with "treasure." News spread quickly and people began calling the area Treasure Island.
Town's 3 miles of white, sandy beaches on the Gulf of Mexico are its areas greatest attraction. Residents enjoy swimming, shelling, sunning, snorkeling, parasailing and more, walk the beach and take in a memorable Gulf of Mexico sunset.
Visit the "world's longest waterfront bar," Gators Cafe & Saloon, to catch the sunset. This multi-level entertainment hub has everything from a tasting room to a Tiki lounge, and it's accessible by boat making it a popular destination.
Treasure Island is located on the West Central Gulf Coast of Florida between Madeira and St. Pete Beach. Treasure Island is a beautiful area to live and enjoy the Florida tropical lifestyle. With over three miles of beaches on the west and Intracoastal waterway on the east, this area is considered a prime location in Pinellas County.

Treasure Island is somewhat quieter and more residential than nearby St. Pete Beach but close enough to all the hot spots that you won't feel isolated from any of the fun the barrier islands have to offer. Treasure Island real estate offers a "small town" feeling that so many people long for in a beach residence.
TREASURE ISLAND NEIGHBORHOODS
There are many places to live on Treasure Island, and we can assist you selecting best suited for you. Whether you are looking for a quaint property on the water, a condominium or single family home, this area along the Gulf has what you are looking for.
The views are spectacular no matter if you are on the beach-side or along the Intracoastal waterway.
Below are the condos, town-homes, and single family communities of Treasure Island. Let us know which one you are interested in and we will send you more information and a complete set of listings on the market today.
Florida waterfront real estate for sale on the Gulf of Mexico-beachfront, Intracoastal Waterway, Bayfront, Salt Water Canal many with Gulf access and boat dock available! Single family homes, condo and new construction see all property on our website!
Newest Property Listings are presented first or do an Advanced Property Search by price, location, community type, amenities, water type etc. You can also search by MAP, Zip Code, MLS Number, Address, and Condominium Name- we try to make it as easy and efficient as possible for users!
For those needing an even more CUSTOM Property Search contact us with the details and we will build it from our end and send daily updates and results!
These are but a partial sample of available units for sale we can build a custom property search from the area MLS with true time updated reports tailored to your exact specifications saving valuable time when buying a Florida property.